Khel Pratibha Puraskar
Kritee shah secured first position in Under -13 state chess championship organised by Gujarat state Chess Association and she will represent State in National championship which will be held during 14/ 6/2018 to 22/6/2018 in Ahmadabad.
She secured Second position in U-15 State chess championship and she will represent state in National championship during 17 July 2018 to 24 July 2018 in Kolkata.
Kritee has also been awarded 'KHEL PRATIBHA PURASKAR' by Sports Authority of Gujarat for her Great performance for the year 2017-18.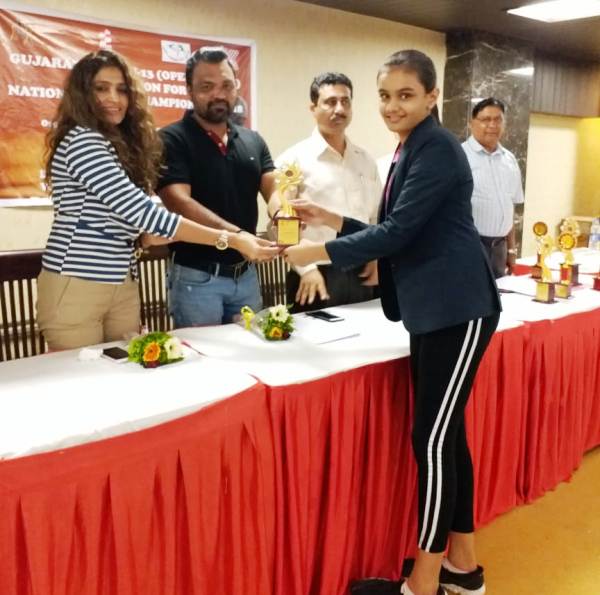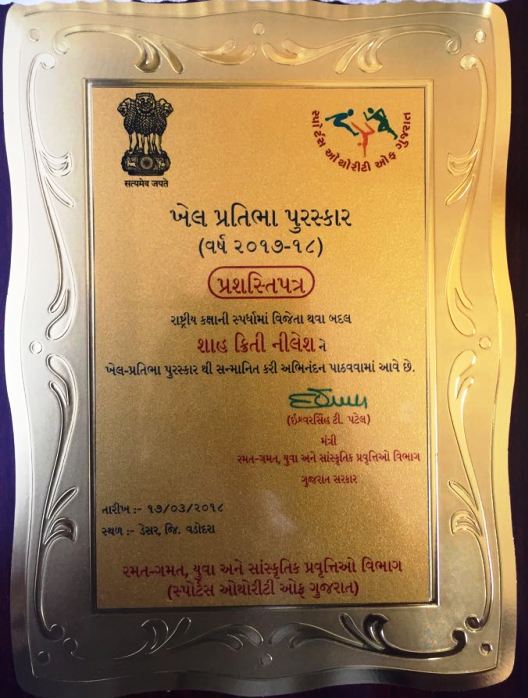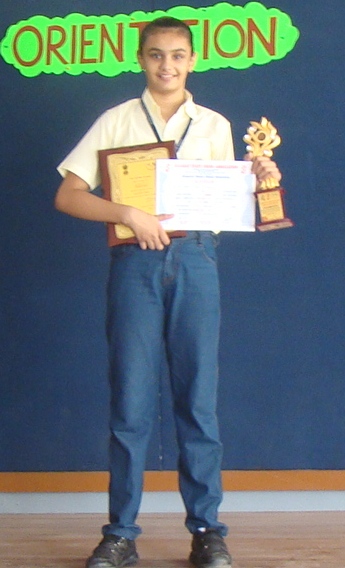 Gujarat state Aquatic Championship
Bhavya Bodha, student of Class IX won 4 Gold medals & 2 Silver medals in Gujarat state Aquatic championship held at Eklavya Sports Academy - Ahmedabad on 02.06.18 & 03.06.18.
He has won Gold in following events:
- 50 Meters Breast Stroke
- 100 Meters Breast Stroke
- 200 Meters Breast Stroke &
- 4 x100 meters medley relay
He has also won Silver medals in
- 200 meters Individual medley
Further he has qualified for 45th National Junior aquatic championship held at Pune from 24/06/18 to 29/06/18.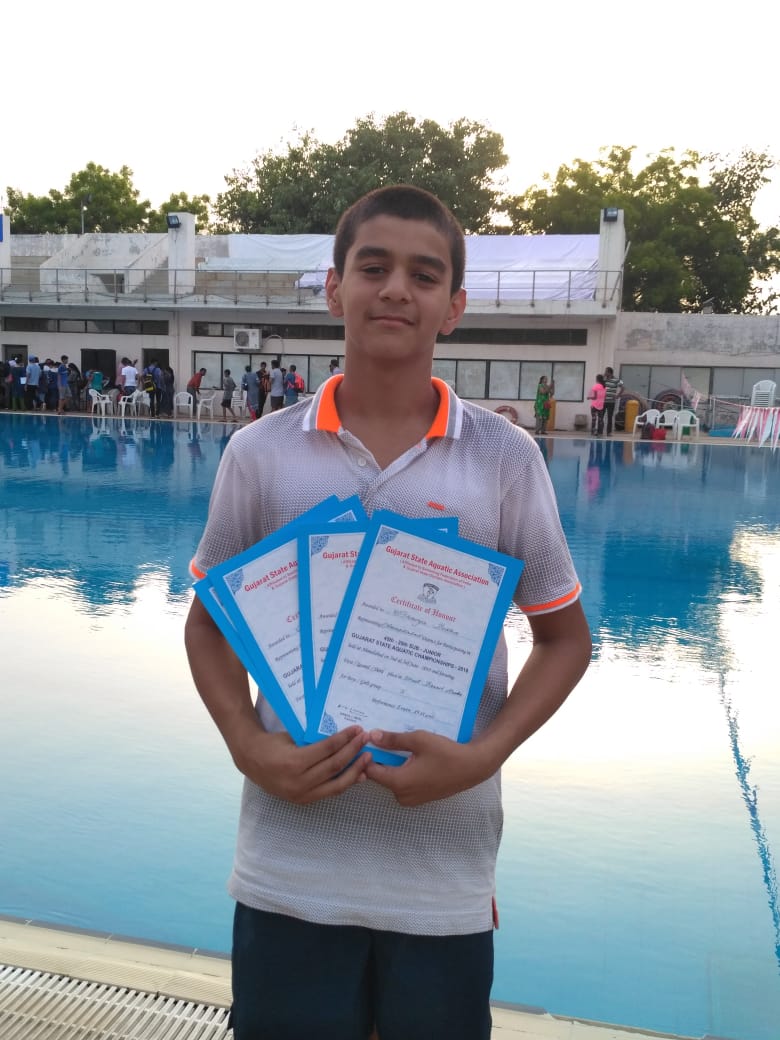 JITO GAMES 2018
Nishk Davawala (Class VIII) secured second position in 50m. Backstroke, Breaststroke, Freestyle and Butterfly and Heer Shah (Class VIII) secured third position in Jito Games 2018 organised by Jain International Trading Organisation.
Nishk will be participating at National level in National Sports Club of India (NSCI), Mumbai on 5th and 6th May 2018.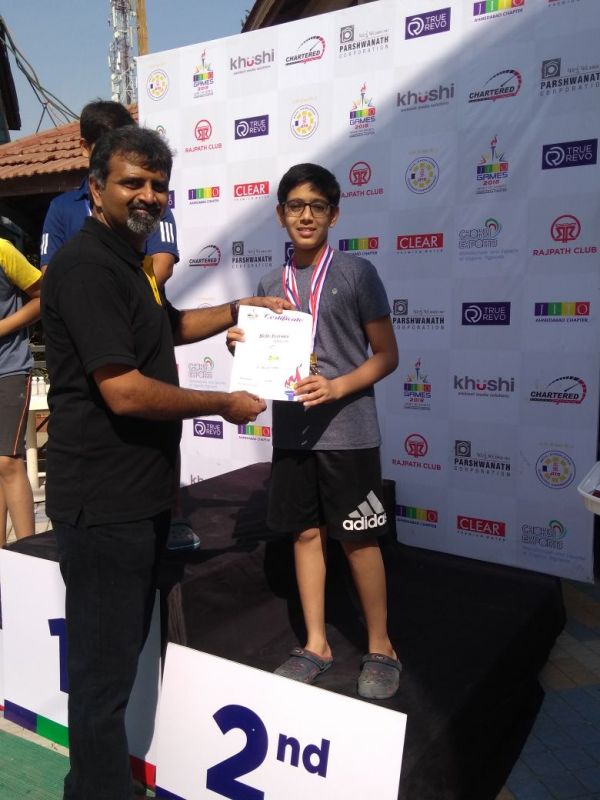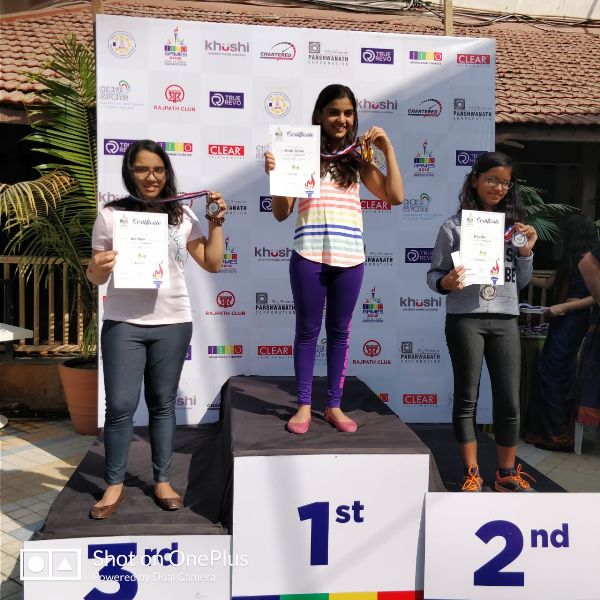 Asian Youth Chess Championships 2018
Shah Kritee of Class VII B took part in Asian youth chess championship 2018 which was held in Lotus Pang Suan Kaew, Chiangmai, Thailand from 1st April 2018 to 10 April 2018. She secured 8th Runner up position under Rapid games in Girls under 12 category and received a medal and a certificate.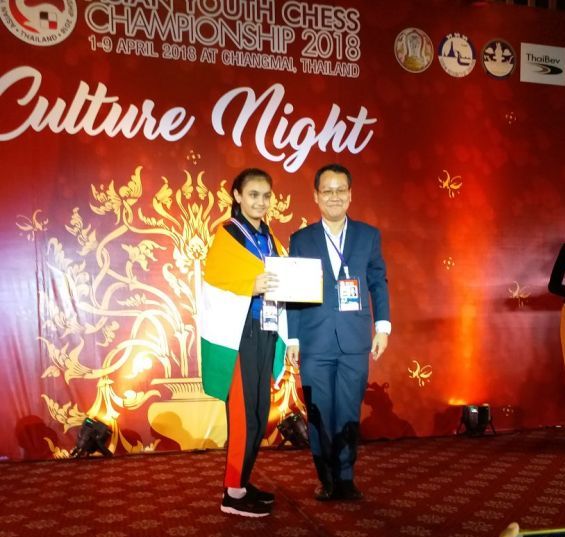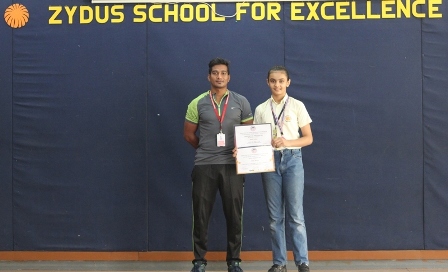 International School Award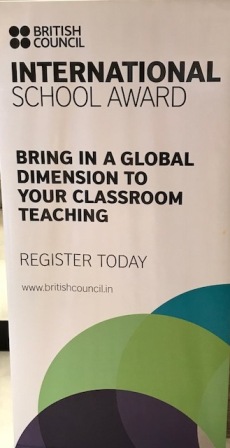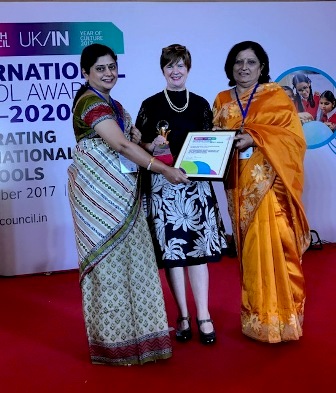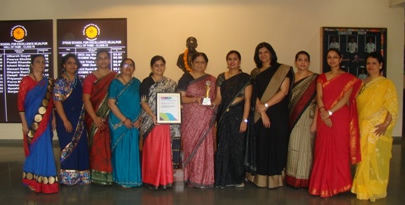 The ISA is a benchmarking scheme that accredits School as having an international dimension to its curriculum. Zydus School for Excellence, Vejalpur has always given importance to global collaboration, research and innovation. Participation in ISA has helped in honing student's skill in research work, social outreach and community building. All the ISA activities were carried out by students with minimum prompting by teachers. The activities are cultural spectrum, glimpses of our Traditional Games, nature amongst us, be compassionate, money circulation, the royal saga and additives in food.
Our school collaborated with Peradeniya Central College, SriLanka. We shared our information related to the various events and activities conducted by our individual School. We also had two students from our School visiting Japan on collaboration with Sakura Science Plan, sponsored by Japan Science and Technology Agency.

These activities were judged on the evidences provided on the basis of Questionnaire, photographs, information shared by the students, PPT presentations, and video recordings, evaluation sheets of teachers and feedback of the parents, teachers and students. We have won the award and received acknowledgment with a trophy and Certificates for the Principal and coordinating teachers. The trophy and the certificate were awarded on 17th November, 2017 at Mumbai in an award function hosted by British Council.
ISRO - Space Quiz
ISRO had organized Space Quiz Competition for the students of class 9 and 10 on 8th October,2017. Two students of class 10 Sana Lokhandwala (10B) and Maurya Patel (10A), participated in this competition. There were more than 12 teams from different schools across the state and our students won the Second Prize.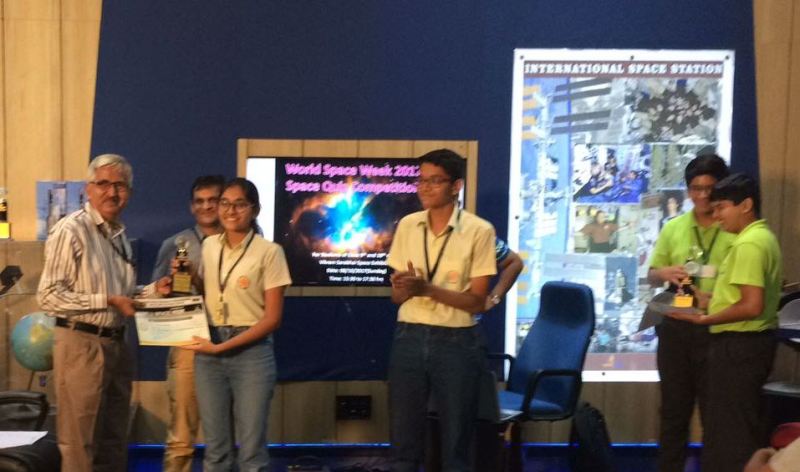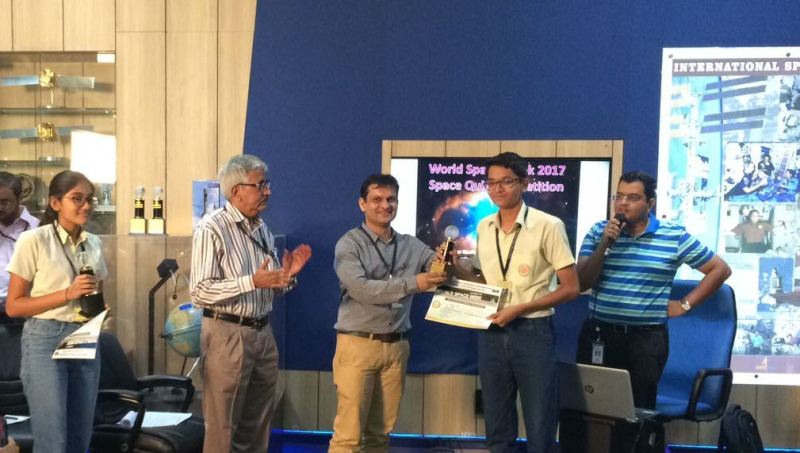 WhizJuniors Competition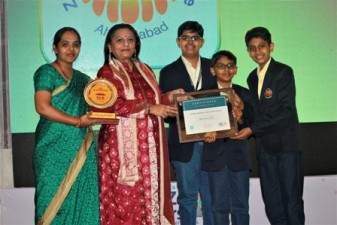 WhizJuniors is India's Biggest Technology learning platform, exclusively designed for the students of classes 2-12. It mainly promotes excellence in technology in all forms. Zydus School for Excellence, Ahmedabad is featured on the cover page of renowned Education World Magazine as the "Top Tech Savvy School of the City". Nine students qualified for the 2nd round. Following students went to Mumbai on 8th February, 2017 for the final third round.
Prerak Sanandiya - Std 5
Arth Kacha - Std 7
Aryan Tiwari - Std 7
 They were among the 15 finalists and were awarded a trophy and a certificate.
India's Top Tech Savvy Teacher
Ms. Krupa Sanandiya of Zydus School for Excellence, Ahmedabad is selected as the "India's Top Tech Savvy Teacher".
The outstanding innovative work of the students and the IT teacher is truly commendable! Congratulations to all the finalists and the teacher.
Science Teacher of ZSE Vejalpur conferred with
GSA – Prof. P.A. Pandya School Science Teacher Award – 2016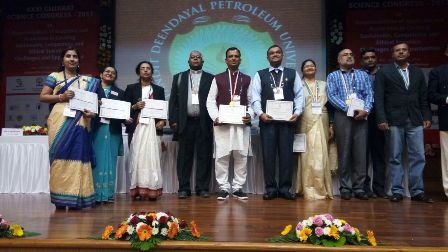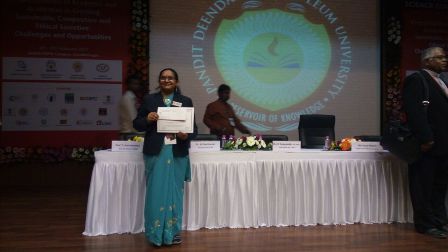 Ms. Nivedita Chaudhary, Science Teacher, of Zydus School for Excellence, Vejalpur was conferred with the GSA - Prof. P.A. Pandya School Science Teacher Award – 2016. She was awarded a scroll, GSA memento and a cash award of Rs. Ten Thousand.  She received the award after being selected by a six member committee on basis of evaluation of a presentation on her teaching methodologies.
The award was presented during the 31st Gujarat Science Congress organized at Pandit Deendayal Petroleum University (PDPU), Gandhinagar on 4th February, 2017.
The Gujarat Science Academy recognizes meritorious services of outstanding school science teachers of Gujarat for introducing creativity and innovation in teaching practices of science education at the primary, secondary or higher secondary school levels by instituting GSA – Prof. P. A. Pandya School Science Teacher Award from the year 2014. 

Heartiest Congratulations to Nivedita Ma'am for her outstanding achievement!
Best School Award in Khel Mahakumbh- 2016-17
Zydus School for Excellence, Vejalpur got the First Prize as "BEST SCHOOL OF AHMEDABAD CITY "in KHEL MAHAKUMBH - 2016-17. The Chief Minister of Gujarat, Shri Vijaybhai Rupani gave a cheque of Rs.1,50,000/- & a trophy during the closing ceremony of Khel Mahakumbha 2016-17 on 8th December, 2016 at Godhara, Dist.Panchmahal. Congratulations to all the achievers.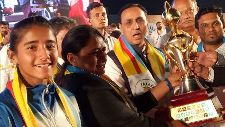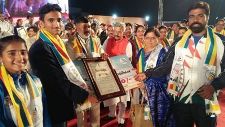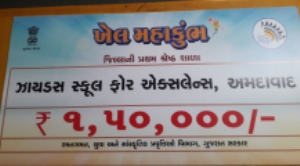 Two Students From Gujarat Visit JAPAN
Sanjana Shah and Sarthak Jain, students of Class 10 from Zydus School for Excellence, Vejalpur who got an opportunity to go to Shizuoka University in Japan. The students were invited to Japan through Sakura Science Plan (SSP) from  10th October to 19th  October. Sanjana and Sarthak were the only two students from Gujarat.
Sakura Science Plan (SSP) is a program sponsored by the Japan Science and Technology Agency (JST), and the goal of the program is to educate young people from Asian countries about Japanese science and technology, their education and living culture.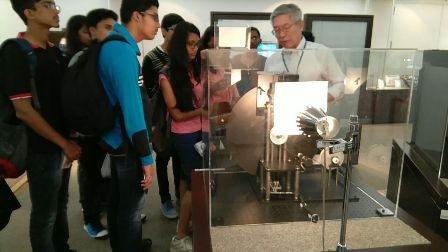 ASISC 20th National literary events 2016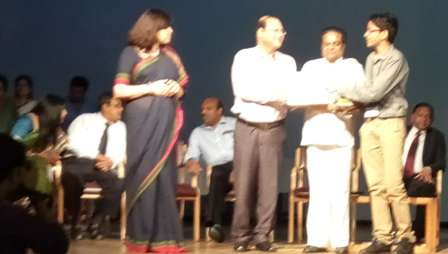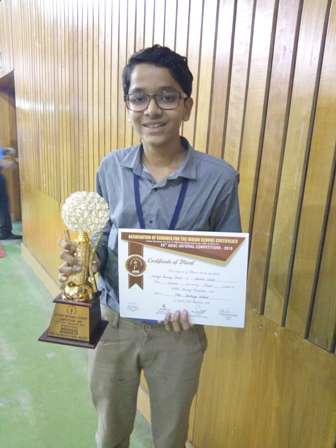 The ASISC 20th National literary events 2016 was held at Heritage School, Kolkata on 19th and 20th September. Maurya Patel of Zydus school for Excellence who won the first prize in the NWR Drawing and painting competition 2016 at state level was qualified for this national level competition. At the national level there were 10 participants from all over India and Maurya was the only one from Gujarat. At the national level (Junior Category) also he secured the first position and was awarded a trophy and a certificate. The topic for the competition was: "Life is a onetime offer- use it well" Or "Become who you are."
Congratulations for your outstanding achievement.