Darsh Soni -
Accolades at The Bahrain 2021 Asian Youth Para Games
Darsh Soni brought fame to the school by winning the Silver medal in long jump and Bronze medal in 100 meters at the Bahrain 2021 Asian Youth Para Games. Congratulations for the well deserved achievement.
Laurels at the state level
Jai Dalal, VIII-C secured Third rank in the Vidyarthi Vigyan Manthan (VVM) State level Camp. He represented Ahmedabad and secured the third position in Gujarat, Daman and Diu and Dadra Nagar Haveli region. More than 5000 students had participated from the state.
Tashvi Sharma, class V in Rajasthan Vidhan Sabah
Congratulations to Tashvi Sharma for having attended and participated in the Rajasthan Vidhan Sabah (Legislative Assembly) special session of Bachon Ki Sarkar on 14th November 2021 (Bal Diwas). Tashvi received a certificate of participation for advice to the government about Book Bank necessity in every school during shunya Kaal (Zero Hours)
The special session was an initiative of Mr. C .P. Joshi (Speaker of Rajasthan Legislative Assembly) in association with Digital Bal Mela. Tashvi was one of the 200 out of 5,500 participants selected as MLA. Further, out of the 30 MLA participants finalized as speakers for the event, she was one of them who made an impact with her thought provoking speech.

YouTube Link: https://youtu.be/BvFUpGaie2E
A noteworthy achievement – Namya Nayak, class X
Namya stood Third (Senior category) in the national round of The Trust of India's (organized by the Times of India) Cartoon Caption contest 2021. He was awarded a Lenovo tablet for his creditable achievement and his name featured in the Times of India and major social media such as Twitter and Facebook.
Merel Das created record - features in - India Book of Records
Merel Das of Class VIII set a record on February 7, 2021 by solving the maximum number of 3x3x3 Rubik's Cube 551 times while hula hooping non-stop for 4 hours. Her feat got her name featured in the India Book of Records.
National Science Day - Best Science Model Prize
Vedantika Sarangi (Class XI) was awarded with a Certificate of Merit and an E-kit for the 'Best Model on the theme Recycled waste to demonstrate Science in the Poster / Model Competition' which was held on 28th February 2021 on the occasion of the National Science Day Celebrations by Physical Research Laboratory. 
State level Roller Skating
Rayna Kotadia (Class I)  bagged a silver medal in three lap and a bronze medal in two lap at State level in the inline speed skating competition held by Roller Skating Federation of India (RSFI), 2020-2021. She has been selected for the national level to be held at Chandigarh.
LogIQids Mental Aptitude Olympiad 2020
Navin Nair (Class V) scored 91% in the first level of LogIQids Mental Aptitude Olympiad (2020-21). His International rank is 8, state rank 5 and school rank is one and has been qualified for the second level. Around 3392 students had attempted for this Olympiad.


Nitya Chokshi interviewed on Hindi podcast Mujhe Kuch Kehna Hai
Nitya Chokshi of Class X was interviewed by national award-winning film maker and versatile actor, Gopi Desai on Ep.Log Media's new Hindi podcast Mujhe Kuch Kehna Hai.
Winner of Best Creative Video
Priyanshi Shah of Class VI was declared 'Winner for Best Creative Video' in the All Gujarat Monologue Competition.
Camlin Handwriting Competition 2020 & Camlin Art Competition
Avi Dwivedi, Class VI was declared winner of the Camlin handwriting competition 2020. Approximately 1500 students from Ahmedabad had participated in the event. Avi also bagged the First prize (Group C) in the Camlin Art Competition.
International School Award
The ISA is a benchmarking scheme that accredits School as having an international dimension to its curriculum. Zydus School for Excellence, Vejalpur has always given importance to global collaboration, research and innovation. Participation in ISA has helped in honing student's skill in research work, social outreach and community building. All the ISA activities were carried out by students with minimum prompting by teachers. The activities were cultural spectrum, glimpses of our traditional games, nature amongst us, be compassionate, money circulation, the royal saga and additives in food.
Our school collaborated with Peradeniya Central College, SriLanka. We shared our information related to the various events and activities conducted by our individual School. We also had two students from our School visiting Japan on collaboration with Sakura Science Plan, sponsored by Japan Science and Technology Agency.


These activities were judged on the evidences provided on the basis of questionnaire, photographs, information shared by the students, PPT presentations, video recordings, evaluation sheets of teachers and feedback of the parents, teachers and students. We won the award and received acknowledgment with a trophy and Certificates for the Principal and coordinating teachers. The trophy and the certificate was awarded on 17th November, 2017 at Mumbai in an award function hosted by the British Council.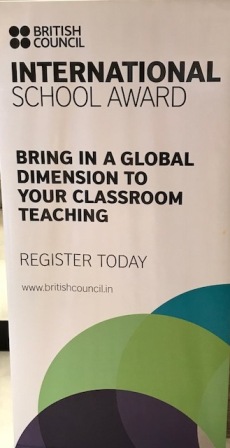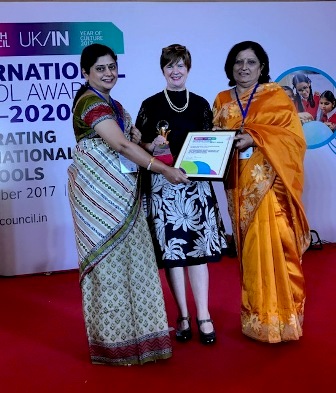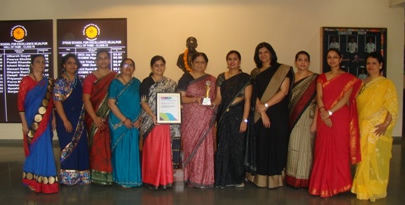 ISO ACCREDITATION
We are proud to share the news of our ISO 9001:2015 accreditation. Our school successfully met the requirements as defined in the Quality Management System (QMS). This involves detailed inspection of adherence to the specific guidelines in the education sector published by ISO.
Children Innovation Festival 2019, Maker Mela & Maker Fest Awards
Vimarsh Shah (Class X) was felicitated by the Hon'ble Chief Minister Shri Vijaybhai Rupani for being part of the top 30 Idea teams of the Children Innovation Festival 2019 organised jointly by Gujarat University, GUSEC and UNICEF.

He bagged the 'Best Young Innovator' award for exhibiting his project at Asia's Biggest Maker Gathering 'Maker Mela' as a 'Maker' for the year.

He also achieved a Platinum award and a cash prize of Rs. 18,000/- in the field of Environment for his smart agriculture project at Maker Fest Vadodara in which almost 100 makers had participated.
,
Gujarat University Startup and Entrepreneurship Council, UNICEF India & HackMIT'20
Aabhas Senapati (Class X) became the youngest incubatee at Gujarat University Startup and Entrepreneurship Council (GUSEC) by developing a working proto-type device 'Thing Finder' for senior citizens and Alzheimer patients.

Aabhas Senapati tweeted three videos on UNICEF India's social media page which includes the one on winning the Hackthon and the others on his inventions like Thing Finder and GreenJoy as a part of #UNICEF -#KidsTakeOver#WorldChildrensDay.

https://twitter.com/UNICEFIndia/status/1330020616662114304?s=20

https://twitter.com/UNICEFIndia/status/1330035716764536833?s=20

https://twitter.com/UNICEFIndia/status/1330050816116363264?s=20

He participated in the HackMIT'20 by Massachusetts Institute of Technology, an amazing 36 hours of intense hacking.  He and his team mates developed 'Guide and Vacuate' during the hackathon to help save people's lives during emergency situation. Their team bagged the 2nd prize in the IBM : Challenge Call for Code.

Aabhas and his team won the MIT Covid 19 – Project Green Joy challenge ever – Beat the pandemic.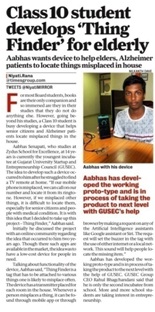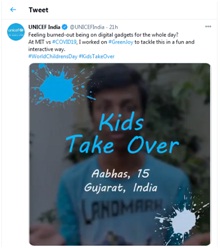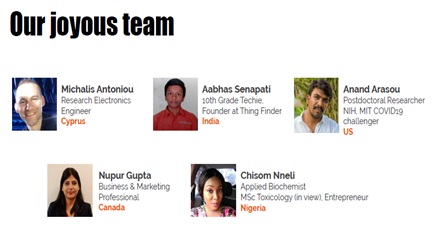 .